After officially opening over a year ago, the Palestinian Museum has finally inaugurated its first exhibit: Jerusalem Lives.

Situated on a hill next to Birzeit University in the outskirts of Ramallah, the Palestinian Museum is finally ready to shed light on Palestinian history thanks to its first exhibit curated by Reem Fadda, the former curator for Middle East art at the Guggenheim Abu Dhabi. The museum's first debut in May 16, 2016, which commemorated the 68th anniversary of the Nakba, carried on despite the cancellation of its first exhibit after the museum's former director resigned.

A year later, Fadda has brought attention back to the museum with her exhibit Jerusalem Lives, or Tahya Al Quds, which sheds light on the controversial holy city of Jerusalem, which is the claimed capital of both Israel and Palestine.

The exhibit, which opened on August 27 and will run until December 15, examines Jerusalem through a participatory display broken down into four chapters that depict the cultural, political, economic and ideological aspects of the city.
"The exhibition attempts to examine the city of Jerusalem as a case study metaphorically representing globalisation and its failures, and find answers to inspire a better future," reads a press release from the Palestinian Museum, speaking to the label Jerusalem has garnered as a 'global city' while it remains inaccessible to many Palestinians.  
Fadda has told the press that the idea behind the exhibit is to bring the city of Jerusalem to people in Palestine with the knowledge that so many Palestinians are unable to visit the city, despite it being just next door to Ramallah.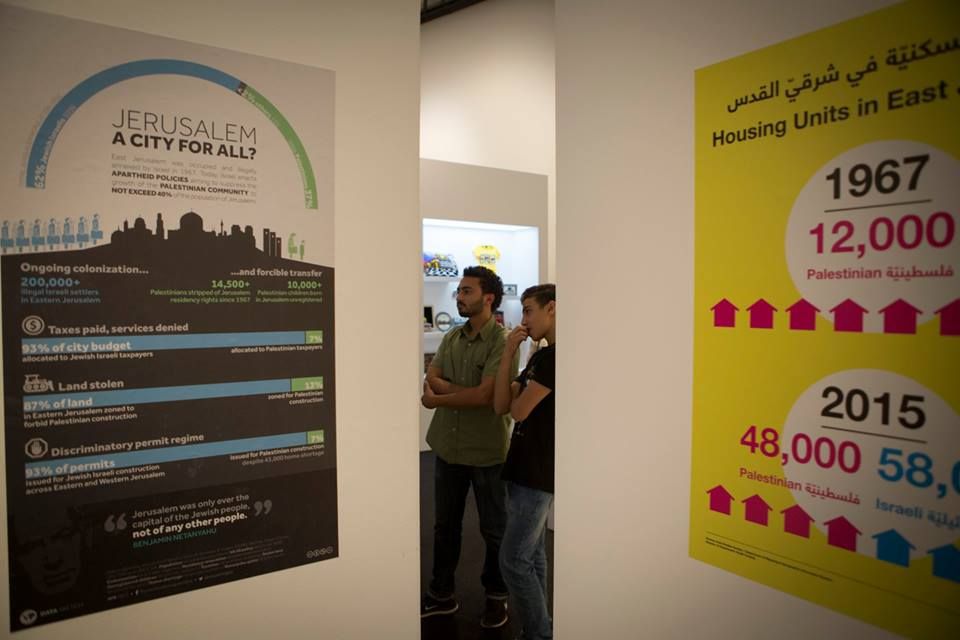 Both international and Palestinian artists make up the content that provides the backbone for the new exhibit. Of the contemporary art work put on display, there are 20 large-scale commissions set up in the museum's garden that draw inspiration from ideas about "land, openness and non-exclusion", according to a review by the Architect.
Jerusalem Lives features dozens of objects, installations and sculptures that formulate a maze-like pattern both inside and outside of the museum. Some of the renowned artists featured in the exhibit include Khaled Jarrar, Khaled Hourani, Emily Jacir, Mona Hatoum, among many others.
Aside from celebrating the culture that Jerusalem represents for Palestine, the exhibit particularly digs deep into its divisive reality that was born out of occupation and the Israeli-Palestinian conflict. While Israel conquered Jerusalem during the 1967 war, it is still regarded as the capital of a future Palestinian state and has been a main focal point of contention in peace negotiations.
The museum was designed by Irish architecture firm Heneghan Peng, and has become the largest museum for art and history located in the Palestinian territories. 
Aside from the Jerusalem Lives exhibit, the museum also holds events and workshops that are listed on the museum's official website.
Photo credits: The Palestinian Museum's official Facebook page